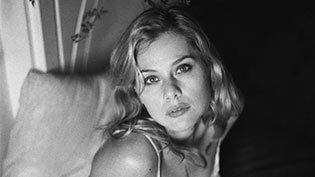 Meital in the Haifa Theater production in the lead role of Romeo. J/K, Juliet.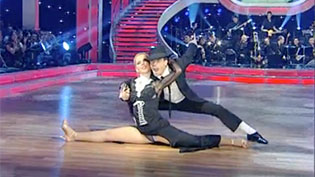 Meital competing in Dancing With The Stars.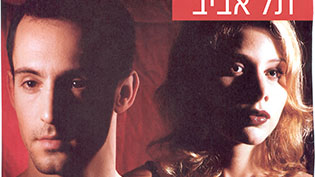 A cabaret show created and performed by Meital and Ivri Lider.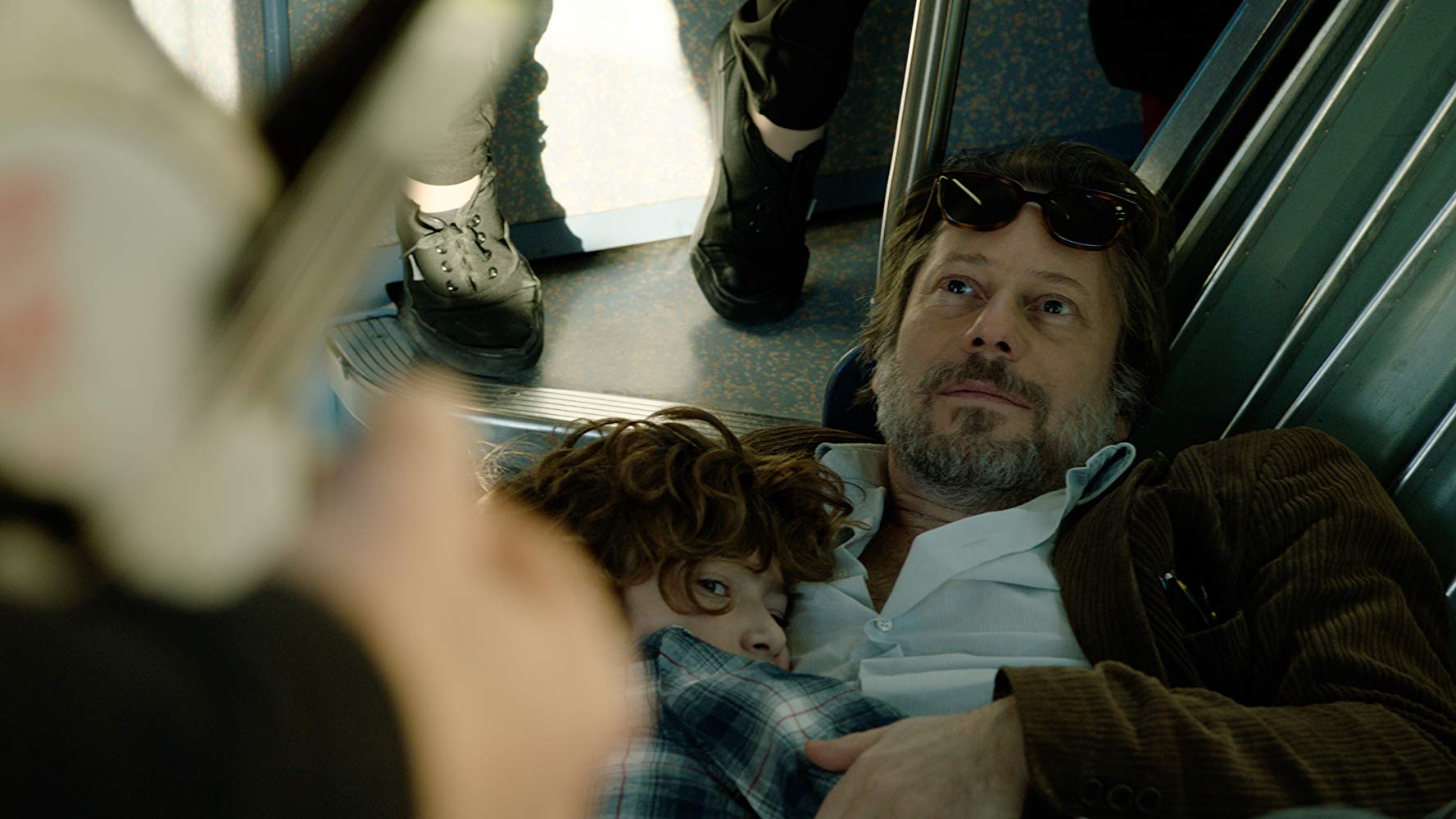 A Tramway in Jerusalem
A film by Amos Gitai. On a tramway that connects several of Jerusalem's neighborhoods from East to West, a mosaic of people from different religious and ethnic backgrounds are brought together.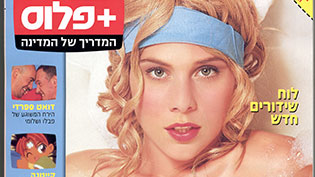 Meital stars in the lead role of Natalie in Israel's hit version of Ugly Betty.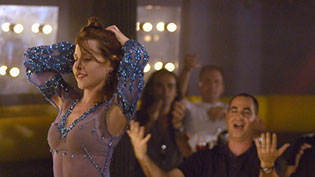 Meital stars as Deby the Belly Dancer in this detective drama where she learned to belly dance and shake her booty.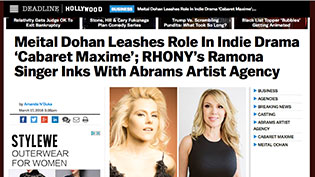 Israeli singer-actress Meital Dohan has joined the cast on
Cabaret Maxime
, an indie drama starring Michael Imperil from director Bruno de Almeida. Imperioli plays Bennie, the owner of Cabaret Maxime, a hotspot that features the world's greatest specialty acts including music, burlesque, strippers and more. Dohan will star has herself, the cabaret's beautiful and mesmerizing featured act with a tiger. (Fun fact: Dohan owns a pet tiger in real life.) Rounding out the cast are Imperioli's fellow
The Sopranos
alums John Ventimiglia and David Proval along with
Orange is the New Black
's Nick Sandow.
Deadline Article

A horror film co-starring Michael Imperioli.
Watch the trailer
.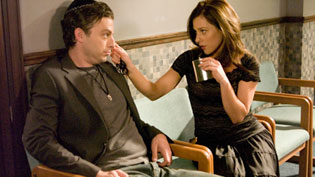 Weeds is the hit Showtime television show created by Jenji Kohan, starring Mary-Louise Parker as the widowed mother of two boys who begins selling pot after her husband has died of a heart attack. Meital co-starred in season two as Yael Hoffman, the sexy rabbinical administrator who has a steamy relationship with Andy (Justin Kirk).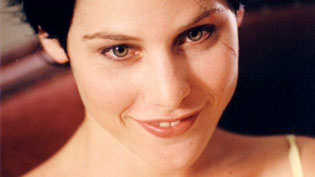 This movie tells the story of three different women who live in the same building in Tel Aviv. All single women in their twenties, the stories of the protagonists are intertwined while they themselves (along with the viewer) move within a world that is partly hidden from them. Meital was nominated as best actress for the Israeli Academy Awards for her performance in Girafot.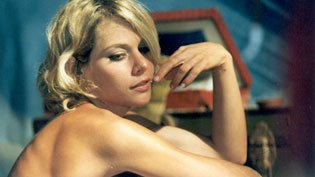 A successful author, Liz, searches for her daughter, Rachel, in the Sinai Desert. Although her daughter objects, Liz remains at the beach and meets a Bedouin storyteller, who relays the unusual love story of Leila (Meital Dohan) -- a Western tourist -- and the son of a Bedouin Sheik named Najim. Meital was nominated for the Israeli Academy Award for her performance as Leila.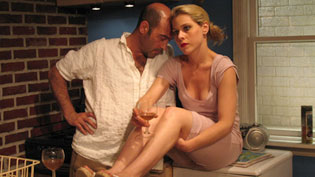 Stitching was written by Anthony Neilson, who is famous for starting the "in-yer-face theatre" movement in London and launched his career having won the BBC young writers competition and was later nominated for the London Evening Standard Theatre Award for most promising playwright for Stitching. John Ventimiglia who played Artie Bucco on The Sopranos co-starred with Meital in the hit off-Broadway production of Stitching in NY and in LA, and it is now being adapted into a feature film, to be produced by Human Loves Human Productions and directed by Bernard Rose (Candyman). Stitching follows the increasingly disturbing and inventive games a couple plays in the wake of their son's death. The film is slated to go into production in early 2012.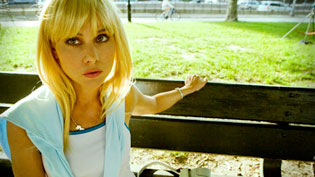 Directed and co-written by Academy Award nominated director Dana Adam Shapiro, produced by Tom Heller, Jeff Mandel and executive produced by Human Loves Human Productions, Monogamy won Best Narrative Feature at the Tribeca Film Festival and hit theaters nationwide in Spring 2011. Three months from tying the knot with his seemingly perfect live-in girlfriend (Rashida Jones), Theo (Chris Messina) is contacted by a provocative woman who calls herself Subgirl (Meital Dohan). A timely mash-up of SEX, LIES, AND VIDEOTAPE, DINER, and THE CONVERSATION, MONOGAMY is a hopeful tale about intimacy, obsession, inadequacy, and fear of marriage in an increasingly noncommittal, exhibitionistic age. Oscilloscope acquired the U.S. rights to film and it's theatrical release in 2011 was met with rave reviews by the critics.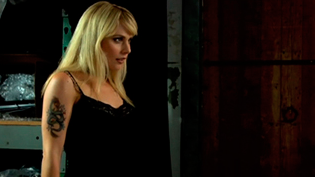 "Woke Up Dead" is Sony's hit comedy zombie series co-starring Jon Heder (Napolean Dynamite), Wayne Knight (Seinfeld), Meital Dohan and Kristin Ritter. It's about a young guy who awakens after drowning in a bathtub with no heartbeat, causing his friends to think he might be a zombie. Meital stars at the no-nonsense zombie chick Aurora who knows how to rob a bank and work the system to her advantage.