lets shrak-shrak-shrak it all out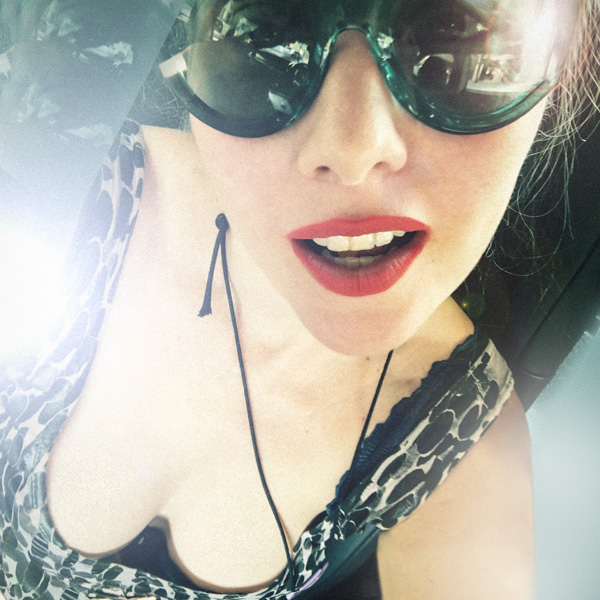 Yediot Ahronot
I'm so proud to be an Israeli I love my country kisses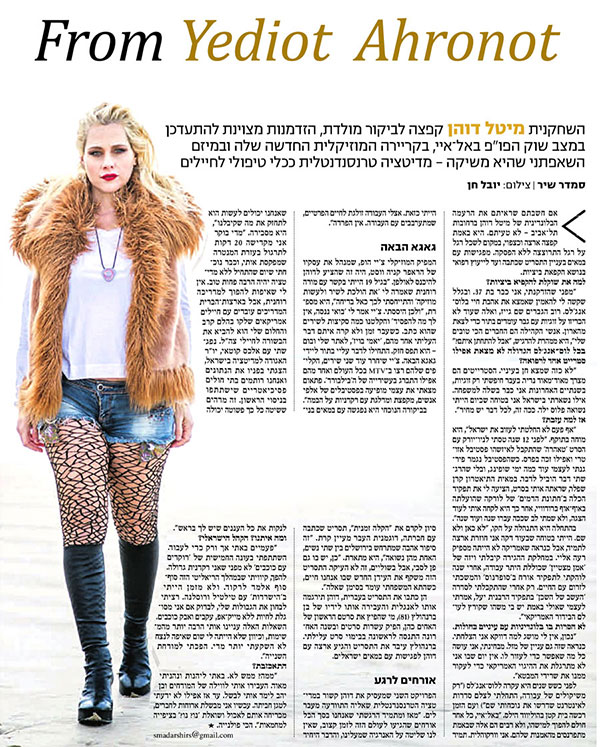 Ruadebaixo
Talent Monthly
The eccentric pop sensation, actor, and comedian, Meital Dohan, has carved out a place for herself in music and film

The eccentric, Israeli born, pop sensation, actor, and comedian, Meital Dohan, has carved out a place for herself in music and film over the last few years. She has toured the world and collaborated with some of the biggest names in music and reached the Billboard Top 10 charts with her single "Give Us Back Love."

She is also know for her roles in Showtime's "Weeds" (Creator Jenji Kohan) and "Cabaret Maxime" (Writer/director Bruno de Almeida)

Meital is also the author of the book, "Love and Other Bad habits," described as "This visually and poetically stimulating new book exhibits a rare tapestry of feminine identity."

"I feel things intensely so usually my best music comes out of an intense state of feeling."

Tell us about your music. You are a popular pop singer from Israel?

"Growing up in Israel, I performed as an actor, mainly in theatre, TV and films. I did do some singing, but it was a more cabaret style with Israeli singer Ivri Lider. The singing came later, but performing is always a blast."

How has your music translated over to American audiences?

"I'm so thankful for the love I have received from the American and European markets. I couldn't be more excited about having my third song ever, charting like crazy and played all over the place."

What has been your favorite performance so far?

"It's hard to pick, but I had a real ball performing at the White Party twice. I love Yummy Boys."

Can you tell us about your latest album?

"My first album is in the works after putting out only three songs. "I'm In Hate With Love" is all about the self and ego. We've moved away from being intimate with others and have become self-obsessed. It's a cultural affliction, and I'm working it out through my music.

How would you describe your genre?

"Different genres of electric pop."

When you write your music, what ignites your ideas?

"It can be anything from a smell to inspire a person, to really any feeling that consumes me. I feel things intensely so usually my best music comes out of an intense state of feeling."

Of all your music, do you have a favorite line or a piece of music? What makes it stand out to you?

Seconds go slow, decades go fast – this is what life is all about isn't it?"

We understand you have done quite a few stage productions and received a Tony award for some of your work. Can you tell us about performing onstage?

"Correct, it has been a great honor. I received the equivalent of the American Tony award in my own country Israel. It was my first role in theatre, an original play and it was a lot of fun."

With so much success in Israel. Why did you choose to come to the U.S.?

"I like to spend time simultaneously between Israel and the US. I'm a citizen of the world, I think it's not fair to keep all these tasty and yummy secrets only to myself. That's why I like to share them with my pet tiger Charlie. By the way he sends his grrrrrrl"

Did your family come along as well? How did they react to the big move?

"I never made a conscious decision to move to the US. If I happen to spend more time here, it's just what my life requires right now so God bless my family they live everywhere."

What do you miss the most about home, other than family?

"I miss everything about Israel… I love the terrain of Israel. The weather and the land are really magnificent. I really love to be by water and in nature, so I love that about Israel."

"I think if you can make people laugh, you can really reach them and if you can really reach them you can make an impact."

How is Israel different than the U.S.?

"Israel's the size of New Jersey. Everyone knows your business and you know everyone else's business. Israel is magical and you feel the magic in the air. The US is much bigger, although size doesn't always matter."

Tell us about your acting role in "Cabaret Maxime."

"I had the pleasure of playing a character that I haven't played yet, which is myself."

What did you love about the script?

"It's a whole lot of a fun and all the characters are very eccentric people that I'd like to be friends with in real life. That's how you know you like a movie."

After this film, do you plan to do more acting?

"Of course. I have a few projects in film and TV that I'm working on."

Do you have any interesting or fun stories from the set?

"If you consider kissing a tiger as an interesting story…"

You also wrote a book called "Love & Other Bad Habits."

"This is a book of poems I wrote as a collaboration with my friend Karen Gillerman who photographed the photos in the book. It's about the moments which are unspoken in an intimate relationship."

What inspired you to write it?

"It came out of an emotional time and also Karen and I wanted to work together and collaborate as artists. It ended up being a lot of fun. We also had exhibitions all over Israel."

Can you quote a favorite part of the book?

"Just one favorite part?"

What was the most difficult part of writing your own book?

"None of it was difficult. It was fun. Otherwise, I wouldn't be writing it."

Is it true you are also a comedian? Maybe we should ask what you don't do?

"I tend to have a comedic lens on life and a lot of times I think comedy and satire are the best ways to really speak about important issues."

What do you love about comedy?

"I think if you can make people laugh, you can really reach them and if you can really reach them you can make an impact."

What is next for you?

"I am shooting a project right now in LA and then I'll be traveling soon. Definitely will be recording more music soon, too, but first I should give some attention and catch up with my pet tiger Charlie because he's overwhelmed with jealousy as I spent quite a bit of time in the presence of another tiger. So let me dive in to that. Ciao!"

Full article here.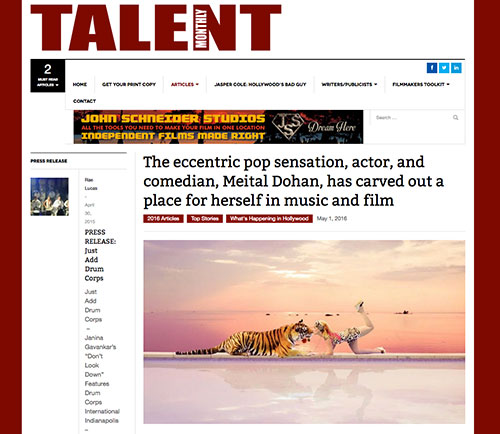 AXS
Interview: Meital Dohan makes leap from acting to larger than life pop artist

After finding success as an actress in Israel, Meital Dohan is out to conquer the American dance music market. AXS conducted an e-mail interview with Meital to talk about how she's making the transition from award-winning performer to hopefully smash hit pop artist, after her spiritual guide told her that she was destined to become a singer.

"The most ridiculous thing about my short singing career was I only did three songs, but they charted all over the world and now the expectations are so much higher," she told us, referring to existing singles "Yummy," "On Ya" featuring Sean Kingston, and "Give Us Back Love" featuring Problem. The latter reached number seven on Billboard's Dance Singles Chart, and was a number-one hit on the iTunes Dance Singles Chart in Italy.

With that bar having been set, Meital told us that there will be no compromises with her forthcoming debut album, which she has titled I'm in Hate with Love. She wants it to be exactly the music that she wants to hear and her reaction to the state of love in the modern world. She said that she thinks we're living in a time of the self, a very narcissistic time in the world where love is always taking a backseat.

That sentence gives you a good impression of what audiences can expect from her as a pop artist. While she's capable of being self-effacing, she also has something more to say and she's not going to release songs just for the sake of putting them out. She's taking her new career seriously and she's not afraid to mix it up either.

"Because I'm coming from acting and theatre I treat my music projects as a music-visual fusion," Meital explained. She also fuses together fun and seriousness, adding, "I always want people to feel joy and want to dance when they play my record, but I do think everything I write has a deeper meaning."

Whenever I'm in Hate with Love arrives (the release date has yet to be announced), she's hoping that people will listen to the record and watch the accompanying videos and that the content will resonate with them. She hopes that they will think about the ways we're living and how our priorities have really shifted. Maybe they'll think about the human connections in their life, and want to pay a little more attention to them. Maybe they'll ask some questions to themselves

Or maybe they'll just have a laugh about how ridiculous life is and all and the roles we have to play, which is a topic that she turned her sense of humor on in the music video for "Yummy." Meital wants to matter but that doesn't mean she can't also enjoy the ride.

Full article here.