Concert Blogger
Interview: Actress and Singer, Meital Dohan

There is a new star in the EDM universe and her name is Meital Dohan. She is an uber-talented actress, writer, and singer whose attention has turned to the realm of Electronic Dance Music. She is one of entertainment's biggest stars in her native Israel. Now she has set her sights on the U.S. and ConcertBlogger.com was lucky enough to get a chance to speak with her. Here is our conversation, edited for clarity.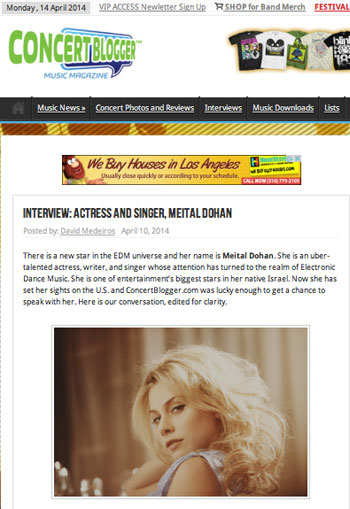 Full interview here: http://concertblogger.com/2014/04/interview-meital-dohan/
The Craig and Robbie Hour
Egyptianman Entertainment Group
MEITAL, "GIVE US BACK LOVE"

From Showtime's "Weeds" star to an international electronic dance music sensation now releasing singles and remixes with Sean Kingston, Reflex (Kanye West, Kendrick Lamar, Rihanna), R3hab (Lady Gaga, LMFAO, Calvin Harris) and Che Pope (Kanye West, Jay-Z, Eminem), Meital has navigated the music industry as a successful independent artist who is currently in the Billboard top 10 Music Dance Charts and continues to rise with her hit new single "Give Us Back Love."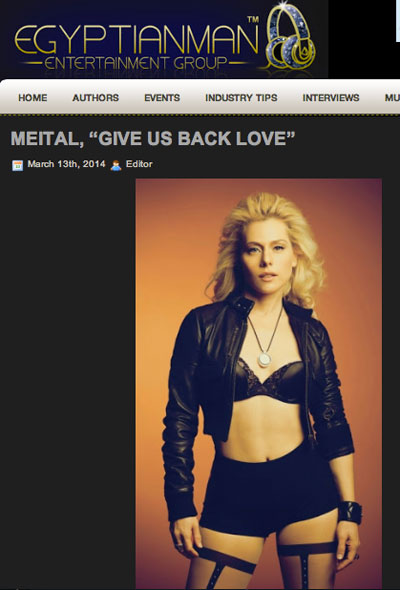 More: http://egyptianmanentertainmentgroup.com/meital-give-us-back-love/#more-1806
The Vinyl District
Meital Dohan, The TVD First Date

"There's something about holding vinyl in your hands that immediately evokes the feeling of nostalgia. The feeling of a different time slipping in between your fingers, a time where people gathered around a record player to listen to music. Although many of us hardly remember those times, they still existed."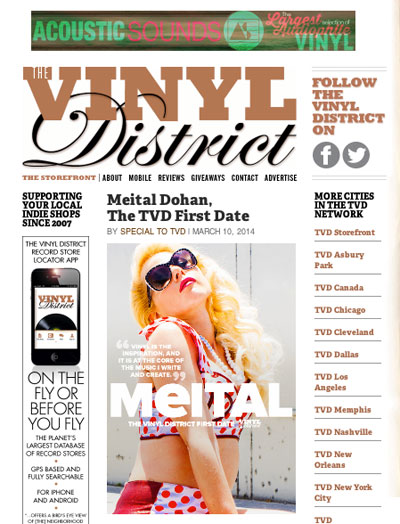 Full article here: http://www.thevinyldistrict.com/storefront/2014/03/meital-dohan-tvd-first-date/
Showbiz Junkies
Exclusive Interview with Singer/Songwriter Meital

Meital has worked out a way to balance singing, acting, and writing while climbing the charts with hit singles. The electronic dance music artist hit the top 10 on Billboard's Club Chart with her new single "Give Us Back Love" which has also been getting a lot of love on YouTube and Vimeo. "Give Us Back Love" has over 1.8 million views and shows no signs of slowing down.

Meital's currently busy working on her next single and working on a new TV series that's in development. She couldn't say much about the series during our exclusive interview but did reveal an interesting tidbit. "It's going to be very funny and you might see my pet tiger in the show," said Meital.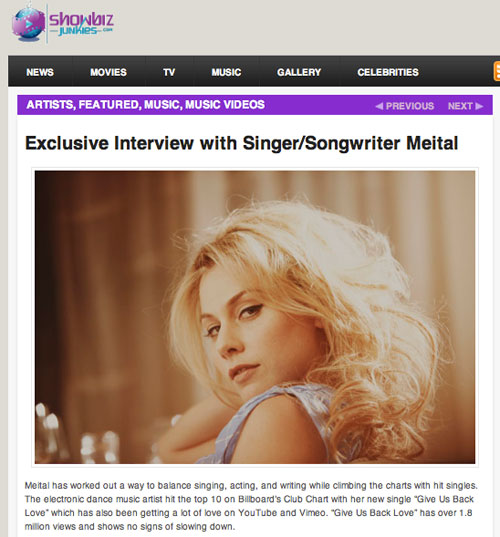 Full interview here: http://www.showbizjunkies.com/music/meital-dohan-interview/